1-Year Complimentary Prepaid Maintenance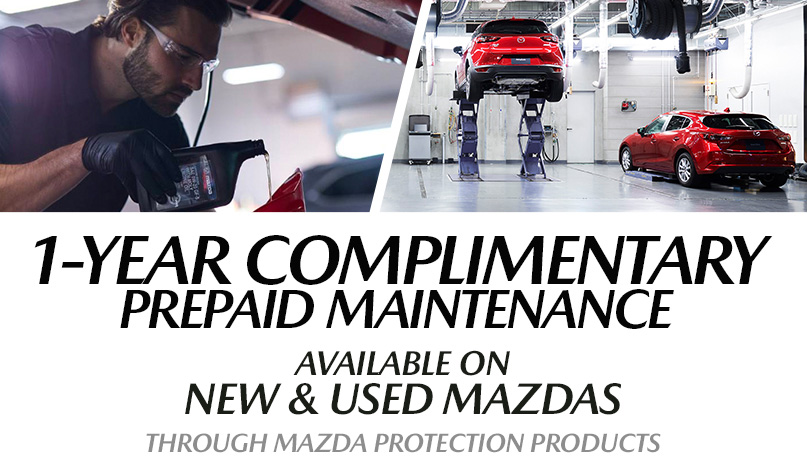 That's right, when you buy at Jeff Haas Mazda, your vehicle purchase price includes a one-year Prepaid Maintenance Gold vehicle maintenance plan with 24-hour roadside assistance!

FEATURES AND SERVICES
● Oil and oil filter changes
● Tire rotation
● Multi-point inspection
● 24-Hour Roadside Assistance
● All maintenance is performed by skilled technicians

Call us today to ask for details and information on how to extend this coverage to meet your specific needs.
Valid on new and used Mazda vehicles; must be within a 20-mile radius of Jeff Haas Mazda
Additional services may be recommended by your servicing dealer. These additional services are not covered by the Introductory Prepaid Maintenance and are your responsibility.
Roadside assistance is provided by and/or through Cross Country Motor Club, Inc. Lockout Protection does not include the cost of key replacement. Emergency Fuel Delivery includes up to 3 gallons of gasoline at no charge. Towing will be provided to the dealership where the vehicle was purchased/leased, or to an alternate dealership if the customer chooses. Maximum towing distance is 400 miles. Customer is responsible for additional towing costs beyond that distance. Certain restrictions apply.
Vehicle maintenance plan included in the vehicle purchase price is cancelable (see agreement terms) but not refundable. Additional optional, cancelable (see agreement terms) long-term coverage is available for a fee and is not required to obtain credit. See your agreement for complete terms and conditions including non-covered expenses and exclusions. Prepaid Maintenance Gold is available through participating dealerships only.